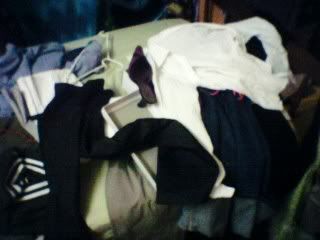 OUTDATED! EXPIRED!

Zara, Elle, Guess, MNG, G2000... you name it.
Hit the entrance with full hope and later walked out with a glum face.
I hate to shop for pants. Proper pants that is. Always end up getting nothing.
I want to search for wide-leg pants.
Saw one at Esprit I think (or was it at Guess?).
Eh, not one, but three! Yes, THREE BEAUTIFUL, PERFECT PANTS. Entered the fitting room and if I didn't control my emotion, I would've wet the pants with tears. And the smallest size is 2.
Yes, it's the waist that betrays me.
And I am sad... very sad...
The same thing happened when I browsed G2000. Perfect design, perfect cut... but when I tried it on and should someone decides to pull down my pants for fun, it certainly won't take him much effort to do so.
I hate shopping.
Will go out again tomorrow and for that, do wish me luck.