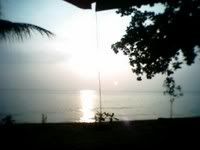 I am going through my
writer's block
phase and I just lost 490MB out of 750MB worth of .dat file. It was my second attempt to download Amelie and I don't think I'll do it again. The frustration is just too much to bear.
*sigh*
Got back from a quick weekend getaway. Despite the developments here and there, to my eyes, PD still is the same place I know since I was a kid. I still see the same old trees along the road at the junction to my aunt's house, the same chalets standing as well as a few other things that don't really face a drastic facelift, enough to make me reminisce about the good old days.
Yeah, Teluk Kemang is still beautiful to me. Only that I saw less people splashing waters or making sand castles or screaming their lungs out on the banana boat ride. The tsunami affects the scenery indeed greatly and business is not very encouraging like it used to before December 26. Nevertheless, I enjoyed my aimless walk along the seaside. Passing by a few group of small kids playing at the shore was somehow... calming (Those who know about my 'fondness' for kiddos will be astonished to read my previous statement).
Traveling is one of the things I like but not when it involves motion sickness. I don't mind the boat rides but prepare to see me fidget in the seat of the car or plane (I hate flying! You can't wind the window down for fresh air!).
Notwithstanding the 'hardship' of the journey I had to bear, I am finally home (and my favourite pillow wasn't much of a help to eliminate the car sick effect. Hermph!).
All I need at this very moment is a soundless sleep.
p/s: Ezani, ya know what? Aku sempat lagi on the phone for another 30 minutes not long after our conversation. Btw, thanks again for calling. :)