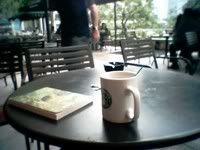 first dosage of the drink that got me drunk...
Went to a birthday party of a 9 and 6 year-old kiddies and the host used the same caterer as Parang Kencana. Explains the Mushroom Quiche I saw. It was a grand celebration. If we were to compare it to the good ol' days, the party will be the talk of the town for a week. They even had the popcorn and cotton candy kiosks. Basically, I have to cut down my sugar intake for a couple of days as I had a few rounds of cotton candies. I have to say that those people don't even know how to make a proper shape of it! They always turned out to be the mutated version of cotton candy! My request for a bigger size would see the increase of only 0.5 from the average ones. Depress nye!
Being already kebulur, food was the first thing I grabbed after salamed with identified aunts and uncles. Had 6 sticks of satay, fried macaroni (a lot) and gallons of drinks. And yeah, not to forget the cotton candies.
I met most of my cousins of my dad's side at the party too, had a few chats with 'em and took a few pictures. And why do I have the urge to share the pictures with you guys when I usually keep my photos down low? Ergh!
The cakes? Hard icing. Very sweet and tasted milky with an edible 'doll' sitting on the cake (that's the girl's cake) and the figure of Mr. Incredible (the boy's) on the other one.
"My cake has Mr. Incredible on it,"
as he proudly told us about it; the enthusiasm you'll get from a small kiddo upon having his favourite cartoon character on his cake.
And yeah again, I am still down with colds and will rub my nose once in a while to ease the itchy-ness and uncomfortable-ness. Need to create a gap between me and Putih and Sam. Need to bathe him as I already start to imagine him as a dust collector. Ergh.
It's already Monday and it's gonna be another dull week. Will start soon with getting my resume done. A few of the kids are already preparing for interviews. My time will come... :)
I've added up an additional feature that only IE users can enjoy (or hate). Those under Firefox or Opera will not be able to detect it. Will find the solution later.
:)