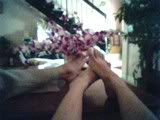 Me:
Ayah, nak pegi shopping?
Ayah:
Shopping dekat Medan la nanti.
Me:
Medan takde benda lah, yah. Cikai tempat dia. Kat sini la ye yah? Ek? Ek? Ek?
Ayah:
Kat Medan je.
Me:
Skang kat sini dah start sale dah yah.
Ayah:
Nanti ayah bagi duit kat Medan.
Me:
Choyyy...
Aiyoh... Will have to wait for next week's allowance lah nampaknya ni.